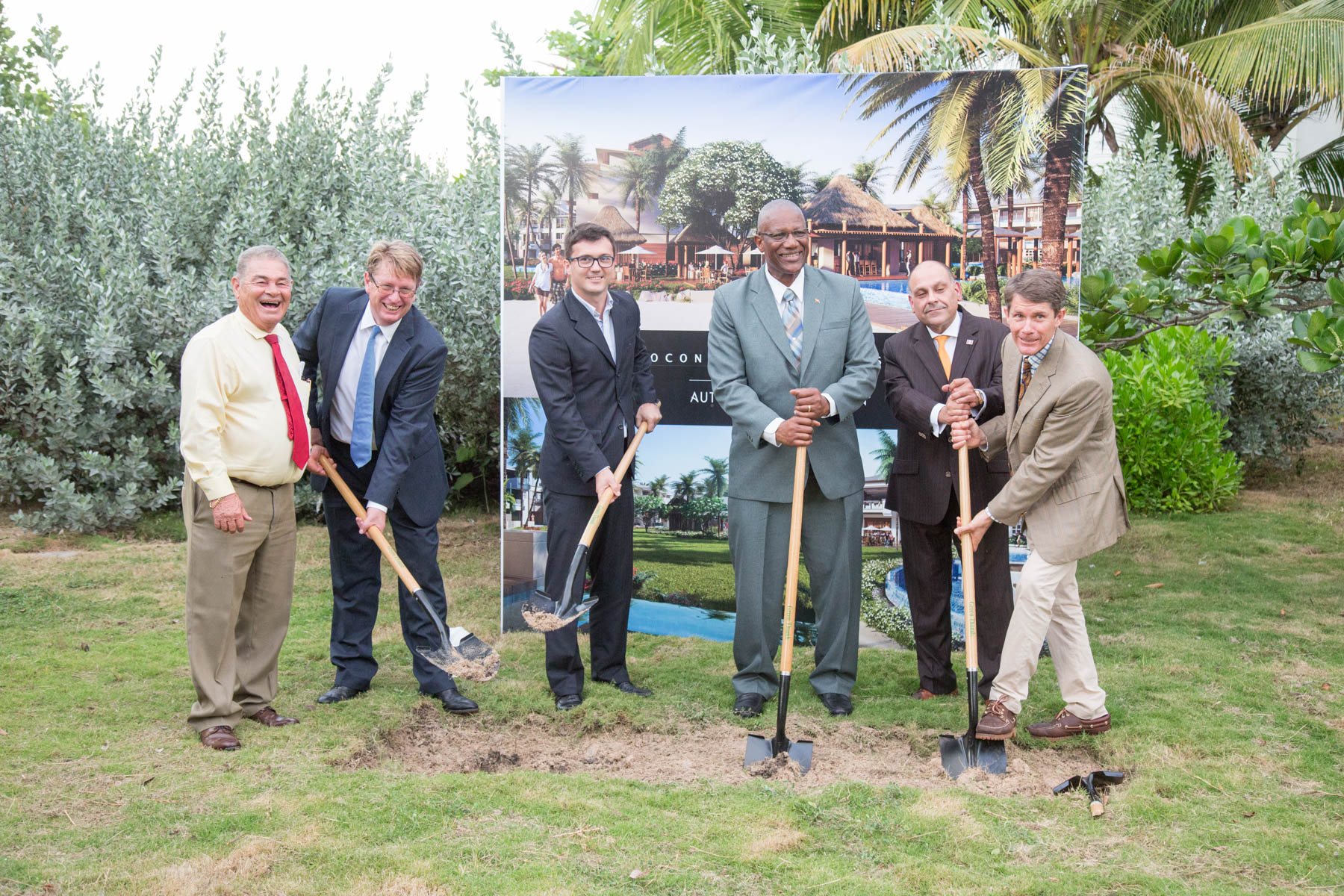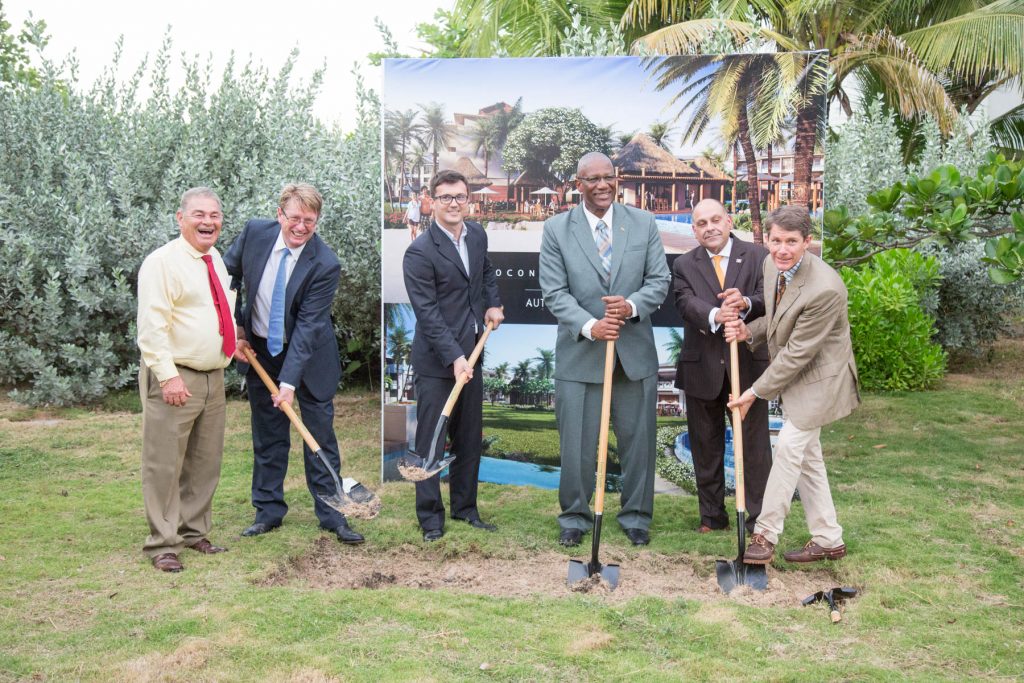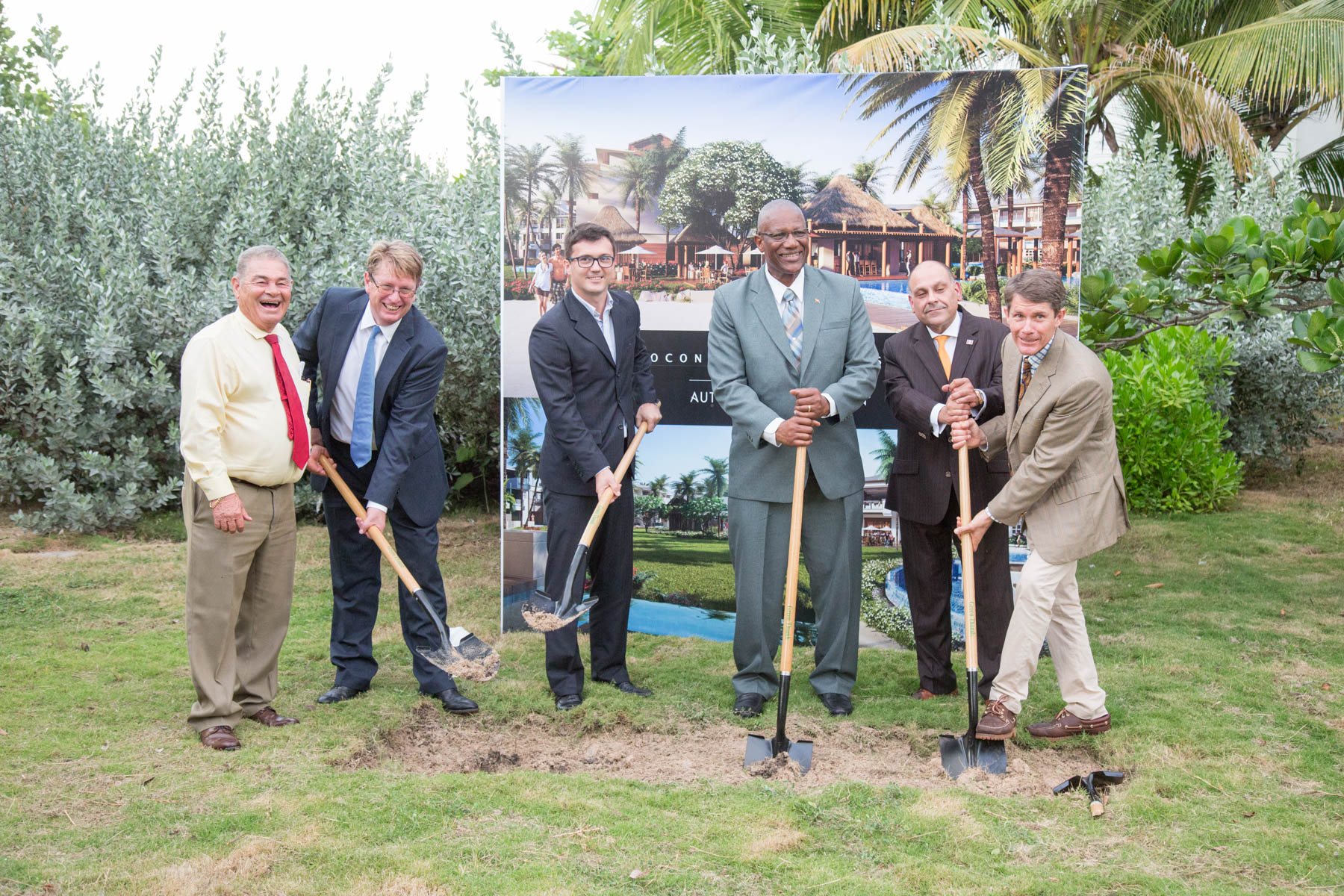 Antigua and Barbuda's Minister of Tourism, Economic Development, Investment and Energy The Hon. Asot Michael has announced the entry of  a prestigious global hospitality brand Marriott hotel for Antigua and Barbuda.
Marriott International will expand its portfolio in the Caribbean with the latest addition from the brand's Autograph Collection coming to the shores of the island of Antigua. The estimated $40 million project, which broke ground on November 29, 2016 will be situated just two miles west of the island's capital, St. John's, and a convenient six miles west of the airport.
The Antigua and Barbuda Tourism Minister said it was an honour to be participating in the significant groundbreaking ceremony both for Antigua and Barbuda and the Coconut Beach Resort Project by Marriott.
"Being able to participate in the ground-breaking of new properties and developments, that will lead to increasing the room availability, and broadening our twin-island nations portfolio of distinguished properties, is of utmost distinction and importance."
The Government of Antigua and Barbuda has set the goal of increasing the room capacity of Antigua and Barbuda to 10,000 within the next 7 years.
The Marriott development is a venture of Leisure World Hotels Limited, which is jointly and equally owned by Sand Dollar Limited and Propertyvest, whose investors comprise some of Antigua's most notable real estate developers. The new hotel rests on the location of the former Coconut Beach Club, property owned by Leisure World Hotels Limited, which closed indefinitely in 2015 and slated for demolition in anticipation of this project.
Coconut Beach Resort by Marriott will comprise of 40 high-end condominiums and a 70 room five star hotel with modern water features, eco-friendly amenities and a sustainable facility design throughout the property. The plan will ensure that the property will fit in-line with Antigua and Barbuda's reputation as providing the quality to attract guests in an incredibly competitive market. Coconut Beach Resort by Marriott will cater to the top-end, and will appeal to those in the leisure and business market, with associated upscale services.
"We are confident that having the Marriott name and respect of brand as part of our portfolio will lead to increased airlift, in particular from the US market as this is a draw for US carriers," said the Tourism Minister.
The Coconut Beach Resort by Marriot is expected to take 24 months to construct, and will provide 180 jobs during the construction phase, and 240 jobs once the property is open; representing a significant source of employment for the people of Antigua and Barbuda.
The groundbreaking ceremony took place with the Prime Minister of Antigua and Barbuda, the Honorable Gaston Browne, in attendance along with Honourable Asot Michael Minister of Tourism, Economic Development, Investment and Energy, Andrew Houghton, Area Vice President for the Caribbean at Marriott International and Marriott's Director of Development for the Caribbean and Latin America, Bojan Kumer.
Kumer said, "We believe Marriott's Autograph Collection will be a strong addition to the current tourism landscape in the region and this project will endorse Antigua and Barbuda's position as the international gateway to the eastern Caribbean. We are excited to bring the brand to the island and be part of its continued growth as a tourism destination."
http://antiguahotels.org/wp-content/uploads/2016/11/Marriot-Groundbreaking-Ceremony-November-20-2016-The-Governor-General-of-Antigua-and-Barbuda-Minister-of-Tourism-Government-Officials-and-Hotel-Investors-Break-Ground.jpg
1200
1800
Neil Forrester
http://antiguahotels.org/wp-content/uploads/2021/07/logo-340.png
Neil Forrester
2016-11-30 16:30:33
2016-11-30 16:30:33
Marriott – Autograph Collection Resort to open in Antigua and Barbuda