We're rolling out The ABHTA Professional Learning Series 2022! Our GLOW-UP professional development courses!
Right-off the bat – our 2 DAY EXECUTIVE & SUPERVISOR HOUSEKEEPING CERTIFICATION COURSE.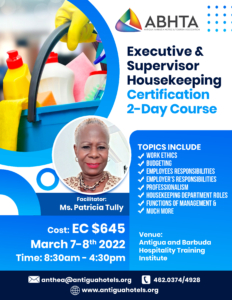 This is a follow-up to our successful housekeeping workshop held last year. This course will focus on the Executive Housekeepers and Supervisors in understanding their roles, responsibilities, and leadership capabilities!
The Five Star Training is scheduled for March 7-8, facilitated by Ms Patricia Tully at the Antigua and Barbuda Hospitality Training Institute from 8:30am – 4:30pm (2 days).
Our March Madness Special – ONLY EC$645.00 which includes daily breaks and lunch. Over the 2 days, the attendees will discuss and learn about:
Budgeting
Work Ethics
Employees Responsibilities
Employers Responsibility
Professionalism
Housekeeping Department Roles
Power that comes from Your Position
Functions of Management
Scheduling
And Much More!
REGISTER NOW! Kindly complete registration form and remit payment in full before or on Friday 4th March 2022.